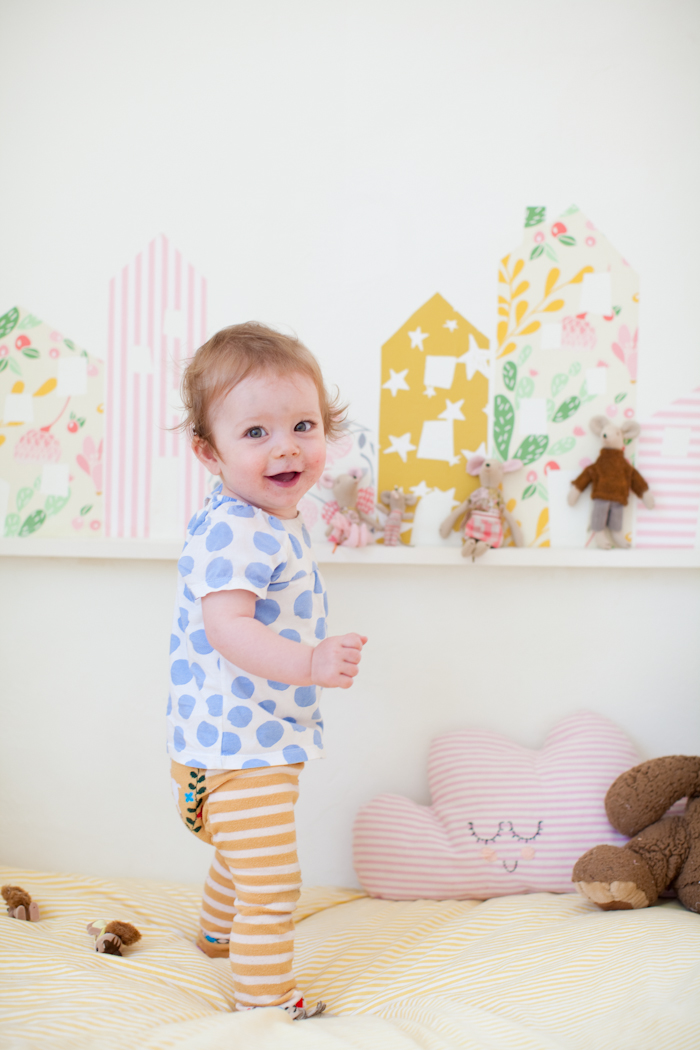 Guys, I am telling you: there is nothing like putting a pregnant woman in her new home. She'll go into crazy mode nesting habit and get all sorts of stuff done 😀 Oh my friends, I am whipping this house into shape like nobody's business – the basement renovation into a media room, setting up the girls in their new bedroom, oh and I haven't told you yet that I am working on setting up my new office in the house….among (a few) other things. It's like my brain wants this house 200% for when the baby arrives – never mind that most of these changes have nothing to do with the baby itself 😉 I am no foul though, I know that the burst of energy I have right now ain't gonna last so I take full advantage of soon. Soon enough all you'll find me doing is eating ice cream on the couch while watching re-runs of Ally McBeal.
Anyhow. The big girls' room is almost finished – a detail here and these and I'll be sharing the full room with you in a couple of weeks- and today I want to show you this fun little row of wallpaper houses I put in their room using removable wallpaper from Spoonflower. It was so easy to set up (DIY how to at the bottom of the post) and is a major hit with the girls – it makes the whole room so cheerful and I love how it calls for their imagination!
I set up a little wooden ledge right at the bottom the houses so that they can put their toys and pretend the houses form a little town.  I often catch them making a little mouse go to school or a mama rabbit head to the market

Olivia mostly displays her horse collection up there – that girl and her horses, unstoppable! Of course Freia loves to come to her big sisters' bedroom and knock all of the toys down

The best thing about this project is you can easily adapt it to your own space – just decide on the length of the row your need, pick the colors and patterns that go for your little one's room and you'll be on your way!
Because I wanted to use several patterns, I kept the houses very simple in shape. I simply hand-drew them and they are a little crooked but I love them for it. I went for a mix of gold yellows, soft and hot pinks, and bits of green and grey. I really love how it turned out! Spoonflower has so many options for patterns, and I even started to design my own  – the wallpaper that has the bits of green and red is mine. So fun!
Click here to learn how to make this row of wallpaper house!
You might also like: