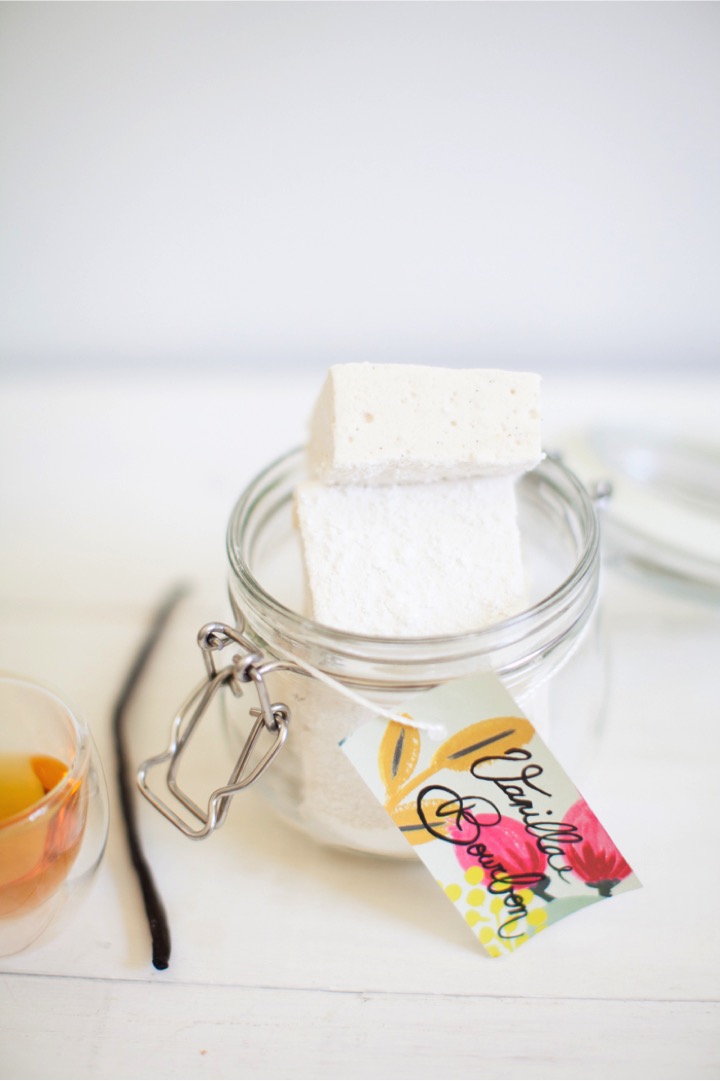 It's become a tradition now: the day before we got on a camping trip, I make these vanilla bean and bourbon marshmallows for the adults. I mean, if I am going to have some s'mores, it better have a little something something extra in it, don't you agree? These are also amazing with a little bit of Bailey's or with coffee.
Last weekend we went up to the Russian River valley with a lot of friends and had such a good time. As much as I love jumping on a plane and exploring new countries, going camping – near or far- remains my favorite. Even when pregnant and in my third trimester. There is something just so relaxing about it – and no, it's not all because of the bourbon marshmallows 😉 Being out in nature where most of the time we have absolutely no cell reception is so refreshing. The adults chat, make food, play the guitar by the fireplace while the kiddos run around happy and free, doing what kids are supposed to do. It's pure, simple happiness right there. I mean, I am happy to get back to by bed after a few days out camping, but I LOVE sleeping in the tent with my entire little family – it makes me feel so close to them. Do you guys like going camping too?
So, about the marshmallows: I made these already last fall for our camping trip to Little Basin (when I also made this delicious fall sangria!) – and I loved these but at the time it was my first time making them and I needed a bit more time to experiment with them before sharing the recipe with you all. Now here it is! Don't be afraid of trying to make your own marshmallows, whipping out a batch only takes less than 30 minutes and they taste SO much better than the store bought ones. As long as you have a candy thermometer at home you should be able to easily make these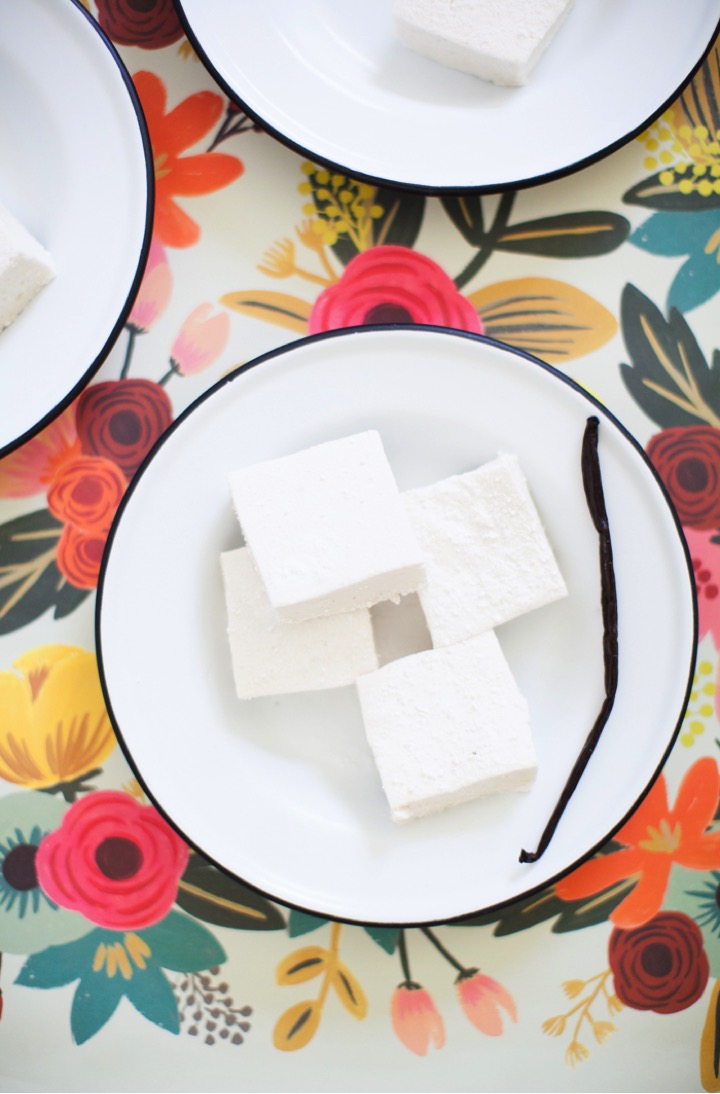 Ingredients
1/2 cup cornstarch
1/2 cup powdered sugar
3 envelopes unflavored gelatin
1/2 cup cold water
2 cups granulated white sugar
2/3 cup light corn syrup
1/2 cup Bourbon
3 large egg whites
1/4 teaspoon salt
2 1/2 teaspoons vanilla extract
1 vanilla bean, halved and scraped
Recipe
1. Make sure to gather and measure all of your ingredients before you start – very important, you'll thank me later as some of these steps need to happen rather quickly!
2. Mix the cornstarch and powdered sugar together in a bowl. This will be the coating for your marshmallows. Heavily coat a baking pan with some of the marshmallow coating using a sifter – make sure to leave no bare spots! Reserve 1/2 of the coating for later. PS: You can choose a pan the size you like, but the wider your pan the thinner your marshmallows will be, and the smaller the pan the thicker the marshmallows.
3. Combine the 3 envelopes of unflavored gelatin and 1/4 cup of the water in a small bowl. Mix and let stand.
4. In a small sauce pan, combine 2 cups of sugar and the remaining 1/4 cup water and warm it over a medium low heat for a minute or so. Add in 2/3 cup corn syrup and turn the heat up to medium-high. Using your candy thermometer to check the temperature (important!) bring the mixture to 240 degrees F.
5. While you are heating up you sugar/corn syrup mixture, start mix 3 egg whites and 1/4 teaspoon salt in a stand mixer on low until the eggs are just a bit foamy.
6. When the sugary syrup hits 240 degrees F, turn off the heat and add 1/2 cup of bourbon and the gelatin mixture. While the gelatin melts, turn the stand mixer back on, this time to high, and start whipping those whites real good!
7. Once the whites have become fluffy and cloud-like, slowly pour the syrupy mixture into the mixer bowl -very slowly so the syrup doesn't splash and burns you.
8. Add in the 2 1/2 teaspoons of vanilla extract and the scraped vanilla bean seeds, and whip for another 12 minutes or so – until the mixture is fluffy, stiff and the outside of the bowl is cool to the touch.
9. Pour the fluffy marshmallow creme onto your baking sheet/pan, using a spatula to even it out. Dust it with some of the coating and then let it sit uncovered overnight – or for at least 5 hours.
10. When ready, use a sharp kitchen knife or pizza cutter dusted with some of the coating to cut square of marshmallows. Or you could also go a bit more funky – where are these flamingo cutters you'd been meaning to use?


11. Toss the cut marshmallows into the bowl with the coating, just a few at a time, and using a spoon, make sure they are fully powdered, then use a wire strainer to give the marshmallows a good shake and remove the excess coating. You can make these up to a week in advance and store in an airtight container at regular temperature. Ours never last that long though

You might also like: