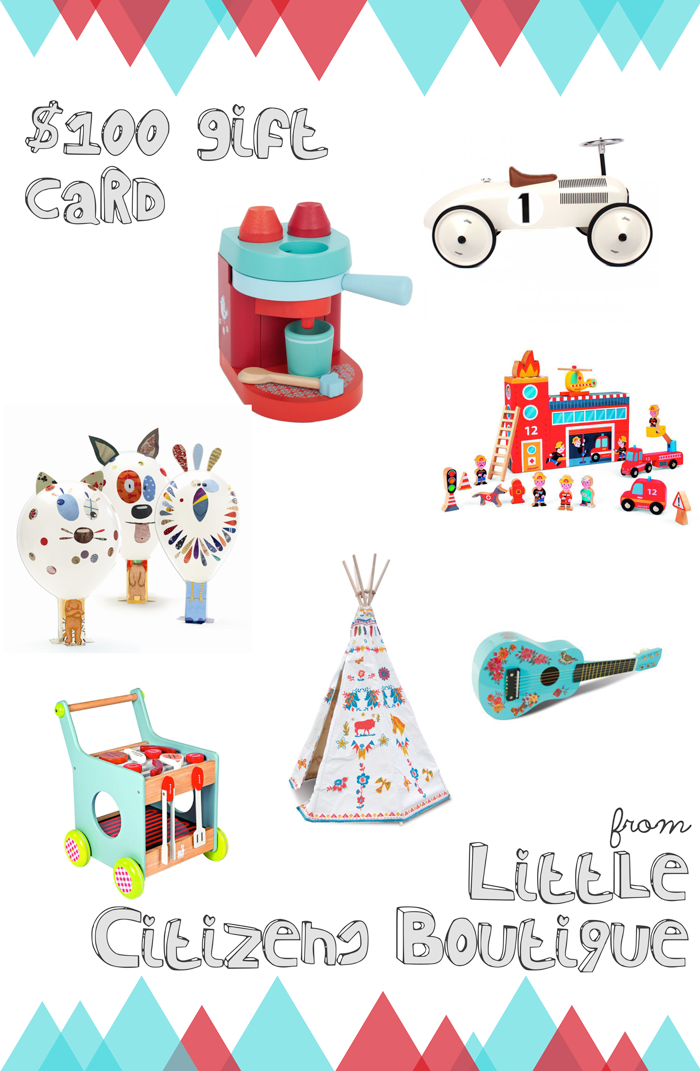 Are you guys ready for another amazing Tuesday giveaway?
Today we are treating the little ones in your life – you can win a $100 gift card from Little Citizens Boutique to buy whatever your heart desires. And let me tell you, your heart's going to desire a heck of a lot once it checks out Little Citizens Boutique!
LCB has treasures for kids from around the world – they have some of my favorite French brands like Djeco & Vilac. It is the perfect place to shop if you want well-designed toys that your kids will want to use over and over again, if you want more creativity and less big brands in your life.  In LCB's own words: "Our toys and clothes inspire the imagination, remind us of good times past and present, and prepare little citizens for the adventures of their life." I don't know about you, but as far as I am concerned, that's exactly what I expect out of toys for my own children. Did you see that little wooden coffee machine? I want it for my girls, they would have such a kick out of pretending to make coffee like mom and dad!
_________________________________________________________
TO ENTER: All you have to do is go to Little Citizens Boutique and let me know in a comment below what item you love the most!
ADDITIONAL ENTRIES- there are three ways you can get additional entries:
This giveaway is open to people worldwide, and will be open until Tuesday, March 5 at 11:59pm EST. A winner will be selected at random and contacted via email. Good luck everyone!
THIS GIVEAWAY IS NOW CLOSED. A WINNER HAS BEEN SELECTED (congrats Kate!) AND CONTACTED VIA EMAIL. THANK YOU ALL FOR PARTICIPATING!
You might also like: