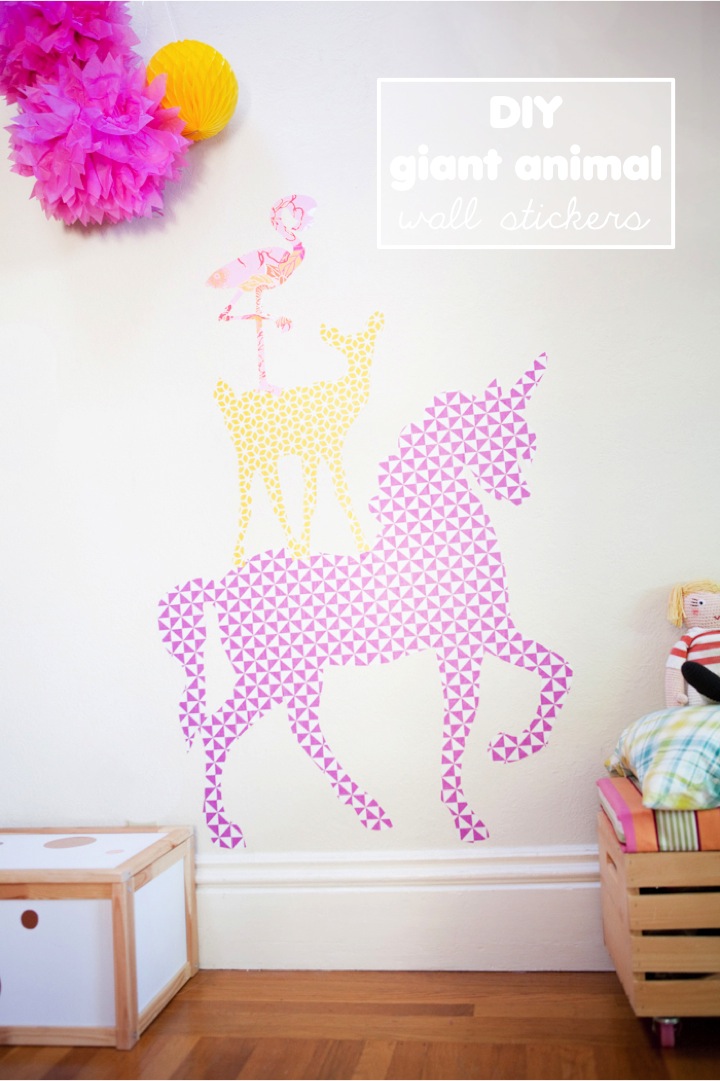 Oh you guys I am so excited to share today's DIY with you – giant animal wall stickers that I made with removable wallpaper for the girls bedroom! And the best thing, I am included free animal printable for you guys so you can just make these at home in just a few easy peasy steps – if you can trace and cut, you can easily do this! The girls went absolutely nuts when I put these up on their walls, and I loved them so much too that I had to put a couple flamingos in my own bedroom 😉
You guys loved the pics of my wallpapered living room and entrance + tips I shared a couple weeks ago – that removable wallpaper is seriously DA bomb and I just had to use it upstairs too! A while back I saw these giant animal stickers, but they are only available in the Netherlands (and a bit expensive for my wallet) – and so there I went finding a way to make my own. And I am so happy that Spoonflower, the company that sells the  removable wallpaper I used downstairs agreed to jump with me on this projects and send me a few 1/2 rolls of gorgeous wallpaper to try out my idea!
When I asked the girls what animals they wanted in their bedroom, the first thing they screamed was: "A UNICORN!!!!!". Poor little girls, they still think that we're going to see unicorns next time we go to the zoo. I keep telling them they don't really exist, but it just goes out the other ear

They also asked for a bambi and some flamingos….which I am really glad they did because I wanted some for myself 😉  So there, we ended up doing a tower of unicorn/bambi/flamingo on one wall, and I put another bambi and a mama rabbit with her babes in another wall

Now – I know these stickers are more geared towards little girls. Would you guys by chance be interested in another round of giant stickers, more "boy" friendly stickers? Thinking bears, lions, foxes, etc – although really I know my girls would be happy with all these animals…..anyway, let me know what animal you'd like in the comment section if I do a round 2 for you guys

Click here to learn how to make these DIY giant wall stickers!
You might also like: