What do you say, I think it is about time I show you what we did with our in-law unit downstairs

I am sure many of you have seen some sneak peaks of it on my Instagram profile – and a few of you might have also caught glimpses of it in the Glitter Guide tour of my home last week – but it dawned on me that I never did a proper reveal of the space to show you all the details that went into it. So, let's check it out, shall we?
If you remember from my "In-law renovation inspiration and before pics" post, the space looked this when we bought our home a couple years ago: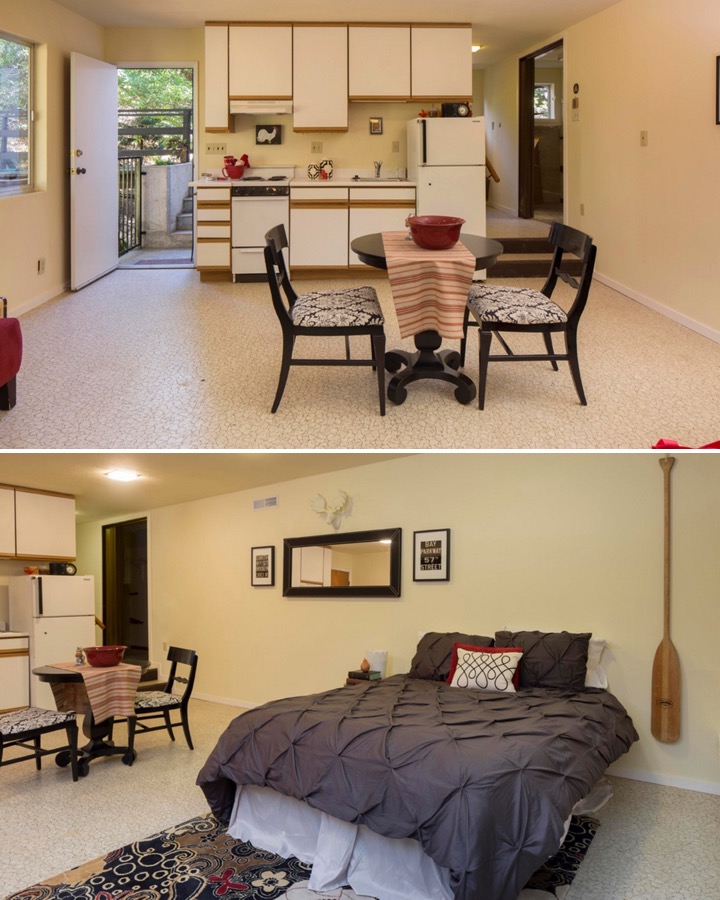 This space was done in the 60s and had not been updated since then. It was more than time for an update! And there, this is what it looks like now

A simple but fun, cosy and comfortable space for out-of town guest. I may or may not do my fair share of hanging-out down there also 😉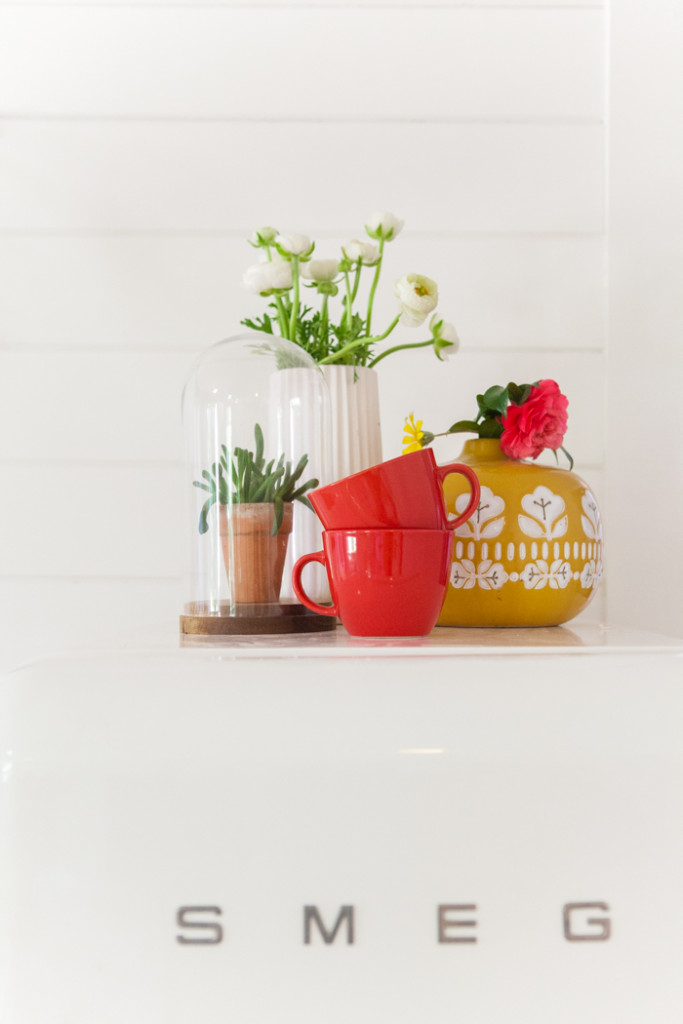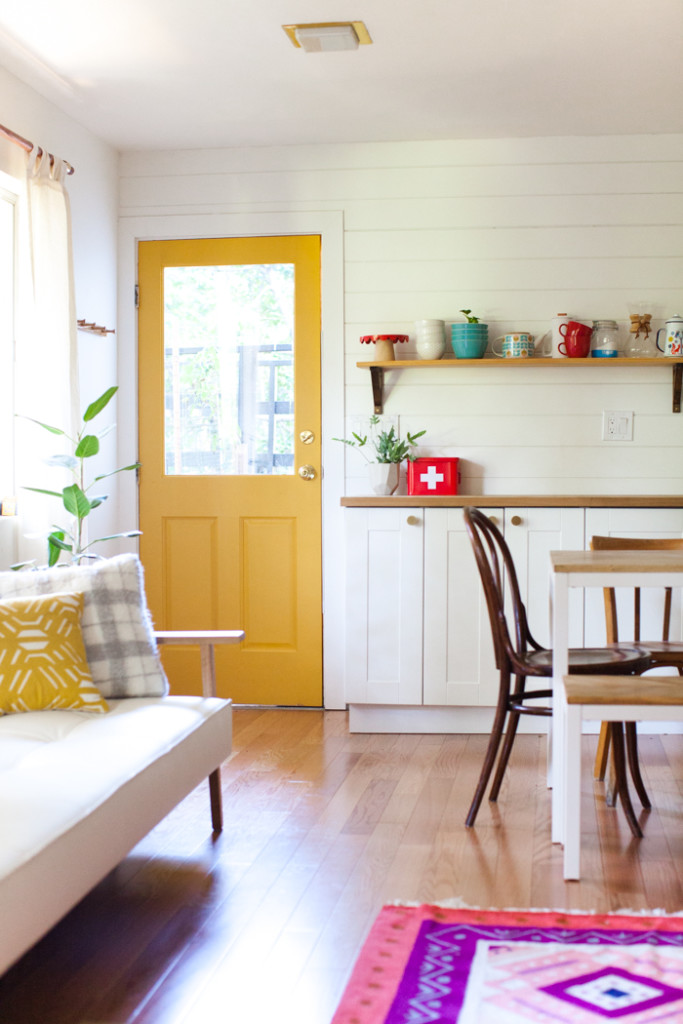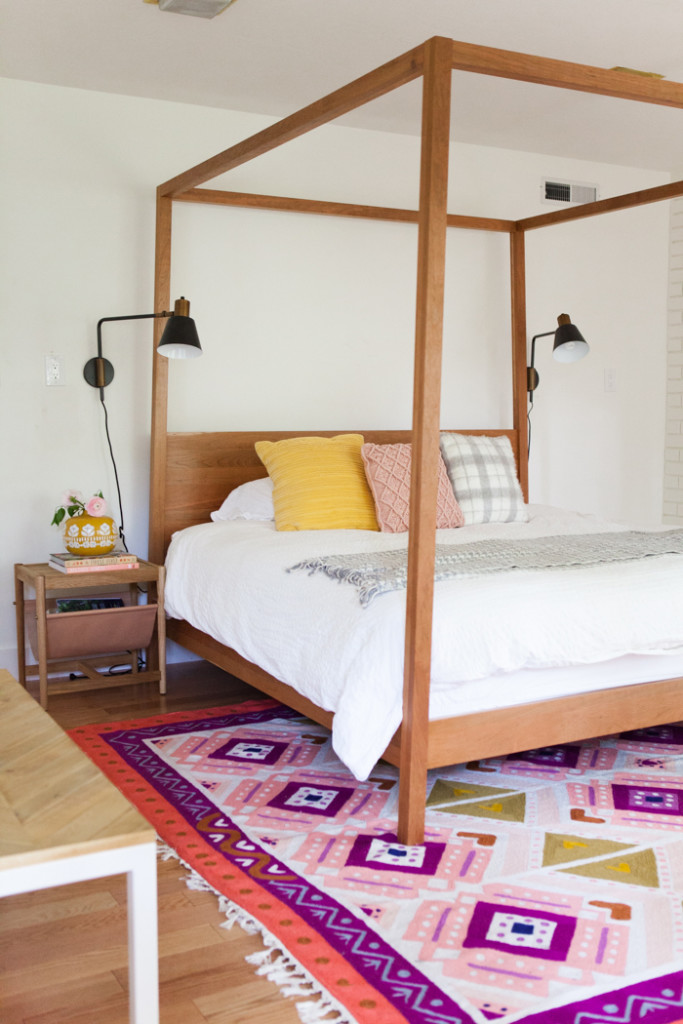 Demo day: Hubby and I did most of the work in the main room. We kept the brick wall fireplace and original recessed brass light -even though they don't provide the best lighting, I love that they are part of the history of this house and we have them in other room of our home-but ripped out everything else. We set up the floating hardwood floors and painted everything ourselves, which saved us quite a bit of money. We then changed the doors (they were actually interior doors that they had used as exterior doors) so that we could bring more light in the room. And then of course, I painted them yellow. Because, duh 😉 These yellow doors make the space so cheerful and my hearts beats faster every time I see them 😉 At some point we plan on changing the windows so they go floor to bottom and add even more light, but the new doors already made a BIG difference.
The kitchenette: I decided on a whim to run shiplap on the kitchen wall to give it a bit more texture/interest and so glad I did. We stayed very budget friendly with this kitchen because it is not our main kitchen – simple white cabinets from IKEA with wood countertops also from IKEA. Truth is, I was saving my money so we could add one of those beautiful SMEG fridges to the space. And it was really so worth it! We use this fridge year round for drinks and overflow food storage when we have a party etc. It really completes the space and I am so glad I went for it! We only did lower cabinets in this kitchenette because we didn't need the extra storage and it made the room feel crowded. Instead, I set up a simple open shelf to keep mugs and teapots handy.  A fun little table with the prettiest chevron wood pattern + vintage chairs I found at my local flee market, and you have the perfect setup for afternoon tea/coffee. A lot of very jet-lagged people come our way  😉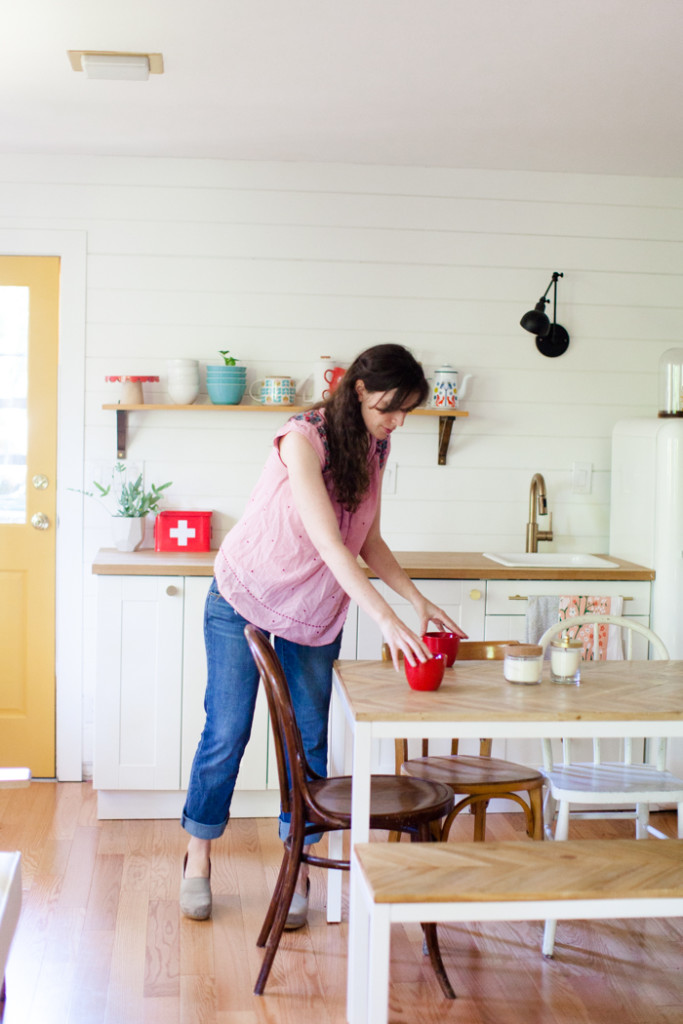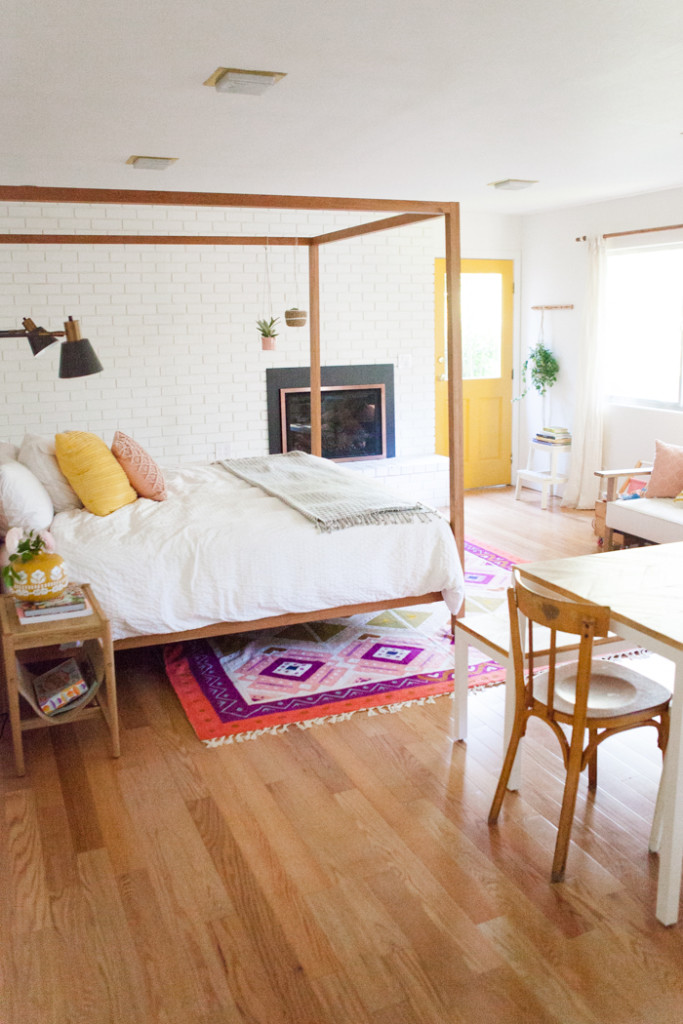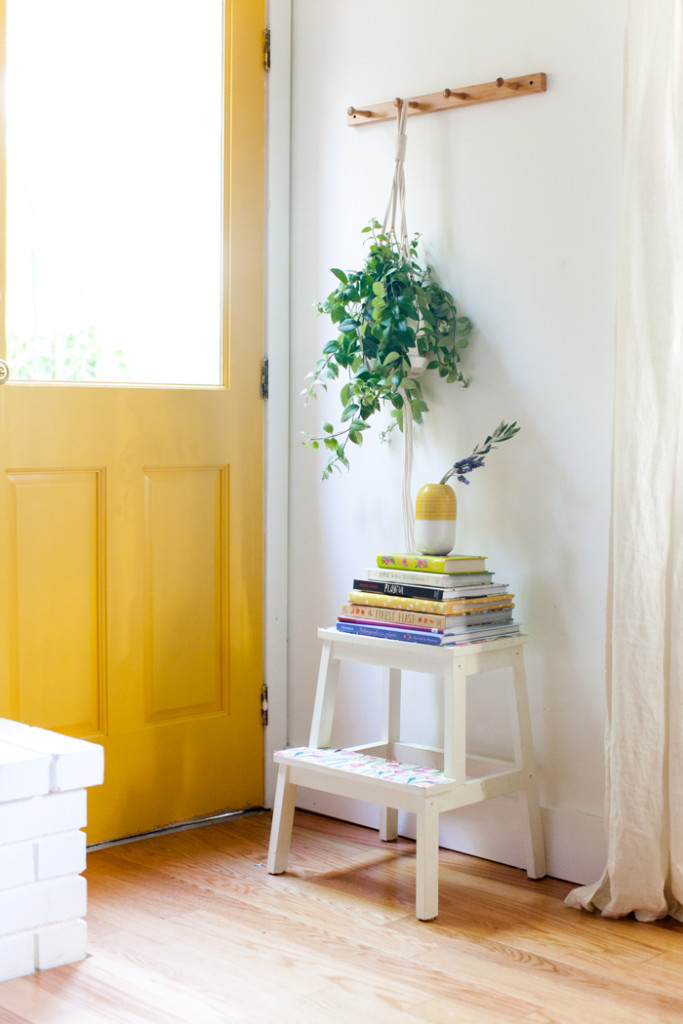 Sleeping arrangements: The canopy bed is one of my favorite things about this room – I kinda wish the bed in our master was this cool but we just don't have the ceiling clearance upstairs. I wanted to break up the space a bit and better define eating/sleeping area and the canopy bed did it's magic! I thought for a second about adding a mantle on the fireplace, but with all the wood already going on with the canopy bed I think it would have just been too much. However, we upgrade the fireplace to a gas so that our guest could easily control the temperature of the room.
To finish off the space also includes this super good looking leather futon – simple, clean and super easy to set up whenever we need extra beds for guests. The only thing that is still missing in this space is a bit of clothing storage for people who stay longer –  either a dresser or we are also considering adding build-in storage in the little bit of hallway near the bathroom, probably the latter.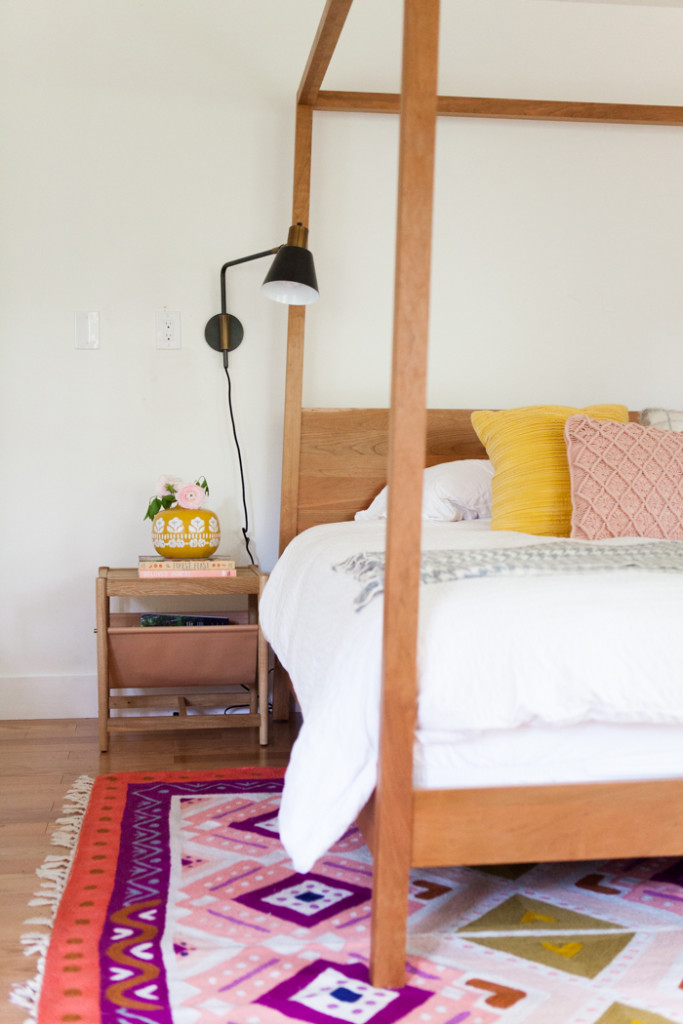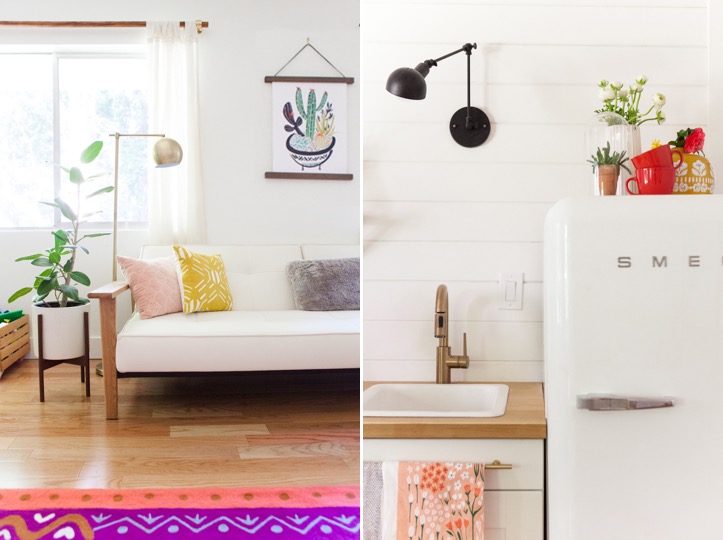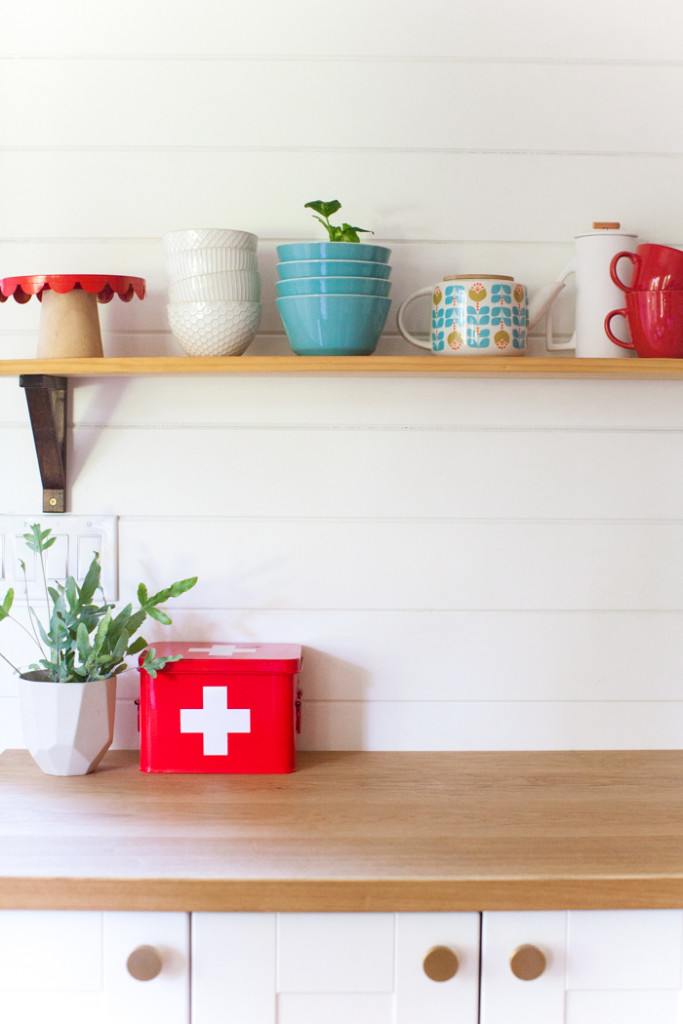 now, THE BATHROOM! The bathroom in the in-law is probably where we saw the most dramatic changes – also the one that cost the most money, uhm 😉 But again, completely worth it. As a reminder, this what the bathroom looked like when we bought our house: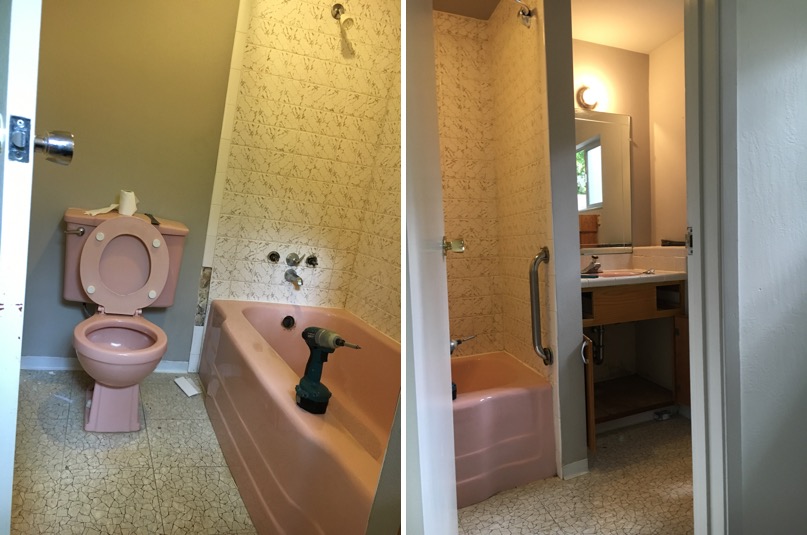 And what it looks like now! Good by pink toilet and shell sink, hello pretty cement tiles and gorgeous brass faucets

The end goal was to build a relaxing and functional bathroom with personality.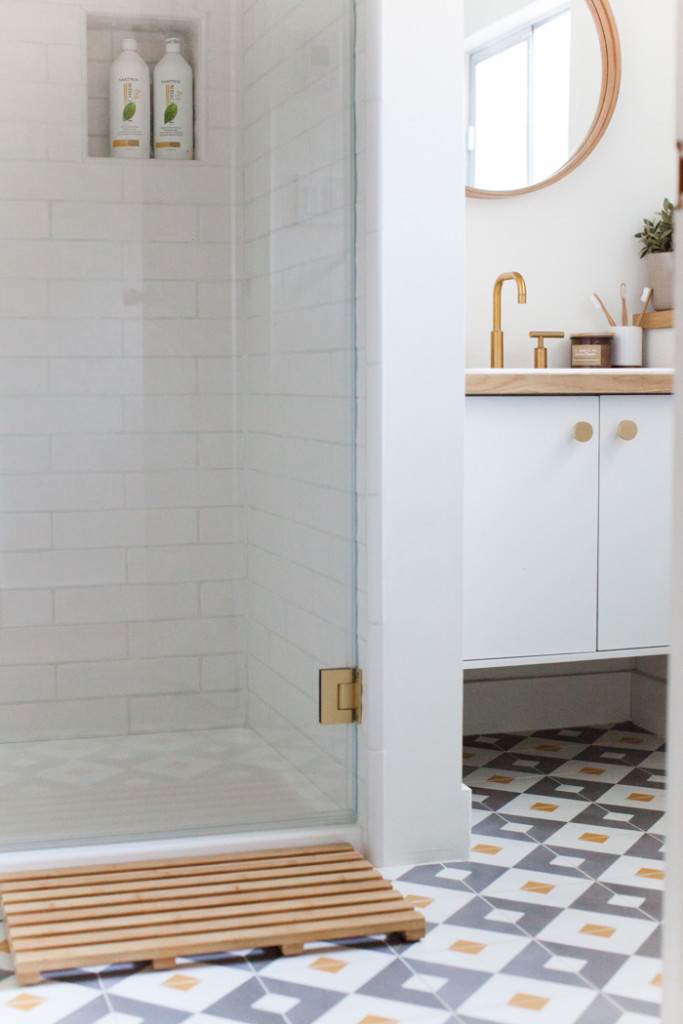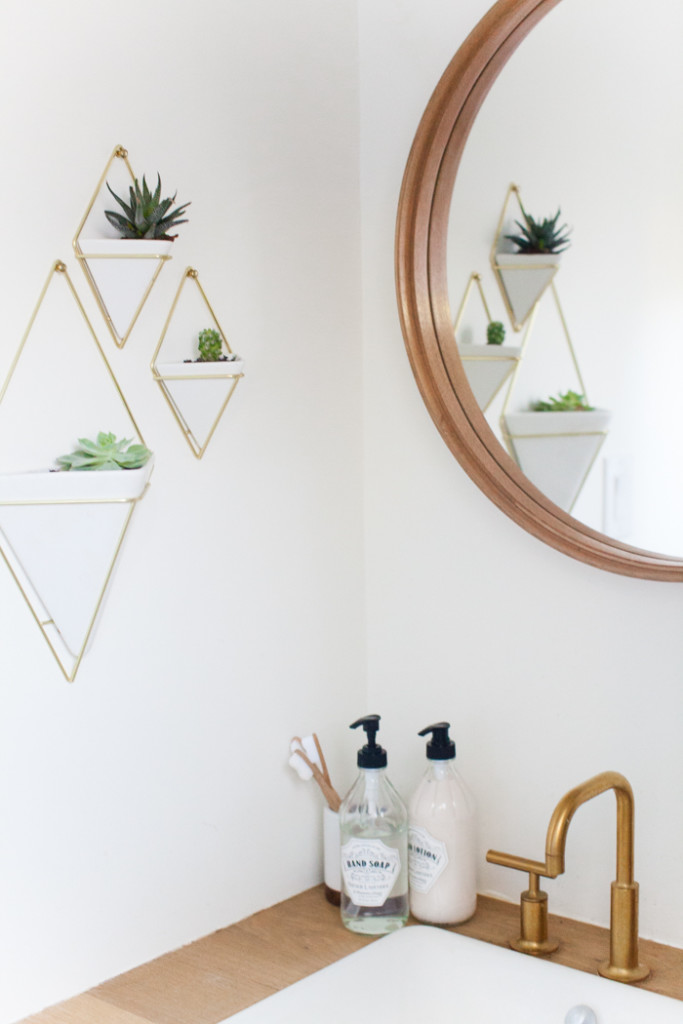 I don't know about you, but I personally have never been a fan of the shower/bath combo – I get it, they are very practical, but I'd much rather pick one and have that done well. For guests I thought shower would be the most practical so we gutted out that pink tub. The shower head was pretty expensive but it really elevated that overall look and feel of the bathroom.
The door to get into the bathroom used to single into an already tiny bathroom so changed it to open out – made a big difference! I also opted for a floating vanity to make this tiny bathroom more airy. We had some cement tiles left over from our front yard remodel, and I thought they would be simply perfect in this bedroom – they were indeed perfect. They added just the right amount of yellow to tie in with what we have going on in the main room.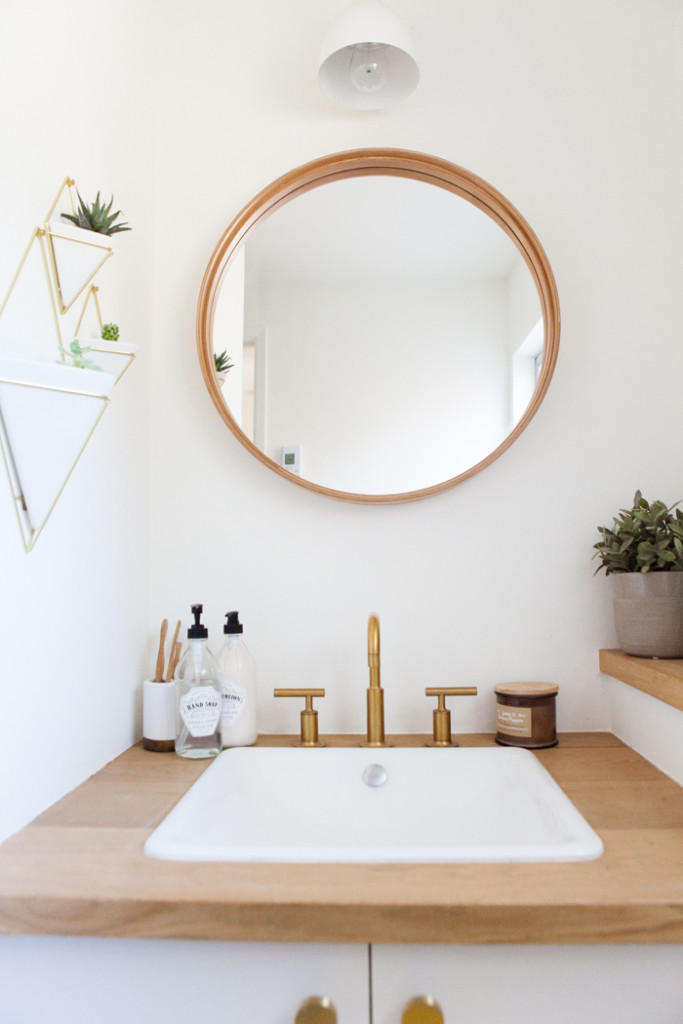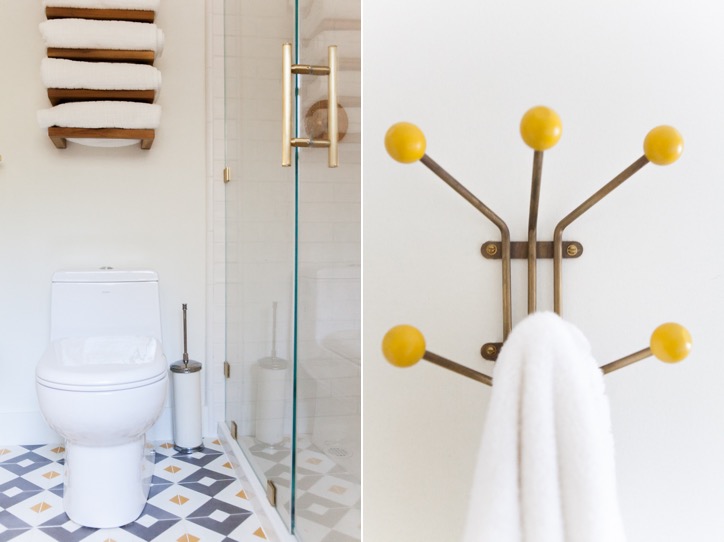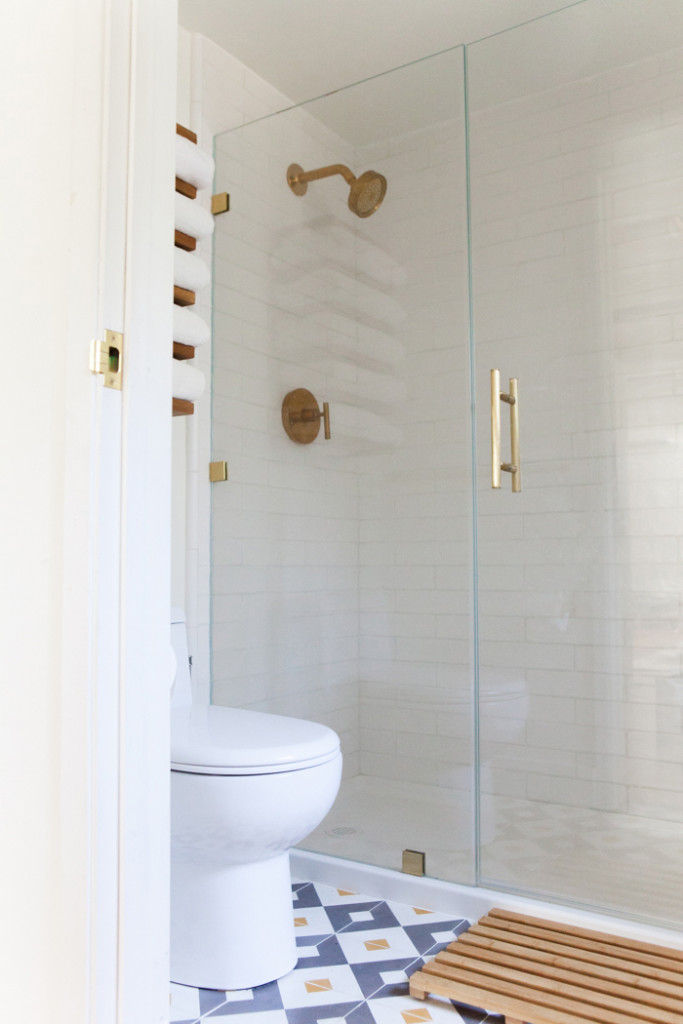 I am so happy that we have this comfortable, welcoming space to host family and friends. This room was our first big home project, and I can't wait to see some more of this with time. Let me know what you think of this space!
SOURCES:
MAIN ROOM:
Kitchen cabinets and countertop
Faucet
SMEG fridge in white
Table and bench
Planter
Leather futon from France and Son (Similar)
Bed
Rug
Brass floor lamp
Bed sconces
Leather sling side table (no longer available)
BATHROOM
Bathroom vanity
Mirror
White sconce from West Elm (not available anymore)
Cement floor tiles
Shower tiles
Faucet in brushed gold
Sink
Shower head in brushed gold
Toilet
Wood towel rack
Yellow and brass hook, similar here
Hanging brass planters
You might also like: